When I first started my nutrition private practice, I knew I needed a website.
I spent hours upon hours of research to determine what would be the best route for me. In the beginning, I knew I wanted something easy to set up because I had so many other business aspects to handle. So, I used Wix (*cue the groans*).
Wix gets a bad rep amongst website designers and there are good reasons to stay away. But, I also think it's important to stick with the mantra of doing the best we can with what we have. If you have limited time, limited funds, and are only having a website as a sort of placeholder that isn't as interactive, then Wix could possibly work for you. But, if you are an online business and plan to find your customers via Google and have a blog, then I would look elsewhere and hire a website designer.
As a fellow small business owner, I know that we are all looking for ways to cut costs. However, this doesn't mean that we can't have a gorgeous website that is up-to-date and user-friendly! Your website could be what is making or breaking your conversions for new clients.
I want you to think back to any recent time when you were looking to either hire someone or purchase something.
What was the first thing you did?
I'm willing to bet that you pulled up Google and searched for what are called 'keywords' for that service or item. And the options that pop up for you are not a coincidence. Those sites put time and money into having websites that rank on Google in order to get more customers.
If you have wondered if it's worth it to hire a website designer, then here are five reasons why:
THE FIRST IMPRESSION IS EVERYTHING
Let's say you finally decided to reach out to someone to help you with some interior design for your house.
You're tired of feeling like your house isn't a home because you don't like how it looks! You start looking for an interior designer that is local to you. A friend mentions they know someone who did a good job for their aunt's house. You pull out your phone and try to search for them to see if they have a website or any reviews. But, you find nothing. Now, that is not to say that you don't find a way to work with this person. But, for the business owner, this is a missed opportunity! The client now has to work *harder* to try to find you and work with you. Let's not make our clients work harder to find us!
Or another scenario: let's say you are finally looking for a therapist. Your insurance company has a list of recommended therapists in your area. You start searching for their online presence to learn more about them, their approach, and find reviews. Again, they don't have a website. Are you going to try and find more information about them in other ways? Posting on social media and asking your friends? Sure, you can (and you probably should either way!). But, wouldn't it be so much easier if you could just go to their site and know exactly who they are, who they serve, how they can serve them, and how to start working with them?
HIRE A WEBSITE DESIGNER TO HELP WITH SEO (SO CUSTOMERS CAN FIND YOU ON GOOGLE!)
SEO is an acronym for Search Engine Optimization. Or fancy-speak for 'are you Google-able?' If potential clients are having to click through 7 pages to finally find your website, it's pretty unlikely that they will make it to you.
When we work to 1) optimize our static pages and 2) learn how to continue optimizing our blog posts and get backlinks to our content, then our business will rank higher and higher on 'the Google.'
Ranking higher = less clicks for potential clients = more potential clients going to your site = more clients working with you!
A PROFESSIONAL-LOOKING SITE WILL MAKE CUSTOMERS FEEL MORE CONFIDENT ABOUT WORKING WITH YOU
I know we shouldn't judge a book by its cover, but that can, unfortunately, be the case with websites. Typically, potential clients will spend less than 15 seconds on your site. Yep. Not even enough time to warm up your leftover pizza from last night (there would most definitely be some cold spots).
Even worse, if your site doesn't load in about 3 seconds, they will be gone before they see it.
This is why we can't have websites that aren't optimized, fast, and present a clear value proposition for potential clients.
We also don't want to 'wow' clients with a beautiful website, then send them lackluster materials or emails. For example, for my nutrition clients, I want them to *know* when they see something that it is from MY brand. That doesn't mean we need to spend thousands of dollars, but we do need to be consistent and know how to apply our branding to our materials AND user experience.
YOUR WEBSITE IS AN EXTENSION OF YOUR BUSINESS – IT NEEDS TO REPRESENT WHO YOU ARE AND WHAT YOU DO
When you're a small service-based business owner, YOU are your business and your brand represents you AND your business.
If your branding and 'feel' of your website, emails and materials don't feel authentic to you, your values, and your mission, then it's probably time for a refresh.
For example, I knew for my nutrition practice I wanted to incorporate pink and purple, but I wanted it to feel warm, safe, inviting. I didn't want hot pink or a dark, aggressive purple. Finding the right shades, the right imagery, the right typography, and then putting it together in a user-friendly way was my goal. It took me many tries to get it just how I wanted it. I'm always making changes and tweaks, but the overall feel and goal of the branding is there.
Also, while we are here, let's talk about how uncomfortable it can be to market ourselves as entrepreneurs. But, I truly think that is because when we think of 'marketing' we are thinking of what I would consider 'bro marketing.' You know what I mean.
Just think of the stereotypical used car salesman (not implying they are all that way, just the stereotype as an example). If that is what we think it means to do marketing, then, of course, it will be hard! However, I would encourage you to find ways to market and network that feel authentic to YOU, your business, and your values.
YOUR SITE SHOULD LOOK LIKE IT BELONGS IN TODAY'S WORLD – NOT OUTDATED OR CLUTTERED, WHICH WILL DISTRACT FROM YOUR CONTENT
Going back to our Google search example.
If you are searching for a service or product and a business either a) doesn't have a website AT ALL or b) the website looks like it was created with GeoCities from 1999, are you going to trust them enough to give them your money?
I'm going to go out on a limb here and guess, no.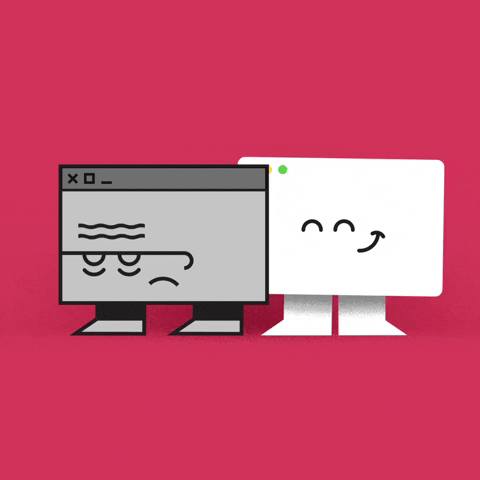 This is why it's important to hire a website designer to create an experience that impresses clients, not one that turns them away!
HIRE A WEBSITE DESIGNER TO SAVE YOU MONEY IN THE LONG RUN BY INCREASING SALES AND LEADS FOR YOUR COMPANY
You can't physically be everywhere all the time, but your website can. Let it do some of the work for you. Let your lead magnet encourage potential clients to sign up for your emails. Then let your automated email sequences introduce you to your potential clients so that they will want to work with you because they know, like, and trust you.
You've put in the work to build your business. Now it's time to let me help you grow with an updated website design, email design, email sequence set up, or lead magnet design that will give your small service-based business an edge over competitors! Submit an inquiry to see how I can help you get started today.